| | |
| --- | --- |
| MOUNT PROSPECT ORCHIDS | |
---
---
PAPHIOPEDILUM SPECIES SEEDLINGS:

adductum* --->'Alpha' x 'Super' Rare species beautiful plants $300.00
bellatulum my all time favorite species love the spots sib cross New sib crosses BS $45.00
boxallii first offering of this awesome species dark heavily spotted dorsals with carmel orange petals and pouch. NBS/BS $70.00

concolor ---> sib cross from Tiawan nice BS plants BS $45.00
dayanum rare sib cross the only Paph that grows near rothschildianum NBS $55.00

dianthum ---> wonderful rarely offered multifloral species multi growth large plants BS $125.00
fairieanum alba sib cross back for the first time in many years we have nice plants BS $45.00
fairieanum NEW colored form sib cross of two dark clones BS $40.00
gardinerii we are excited to have this once more nice plants from Europe BS $65.00
glaucophyllum easy blooms consecutively and can stay in bloom for many months. BS $45.00

<--- haynaldianum alba nice bright apple green and white flowers BS $85.00
helenae NEW sib cross of this adorable small growing species. BS $65.00

henryanum ---> probably my favorite species, love the spotted dorsal sib cross BS $45.00
hookerae NEW sib cross a fantastic species carmel pouch and rosy petals. BS $65.00
jackii NEW like malipoence but mre pointed and paler in coloring limited. BS $85.00

<--- liemianum from a sib cross nice plants consecutive blooming. BS $45.00
liemianum two very dark select clones used BS $55.00
lowii sib cross of two select awarded clones. BS $85.00
mastersianum NEW sib cross An awesome species finally have nice plants to offer. NBS $85.00
moquettianum best breeding we plan on keeping some of these so don't miss out. NBS/BS $50.00

niveum ---> small but mighty white flower sib cross from Taiwan breeding BS $35.00
praestans NEW Been growing these for a while now about blooming size. NBS/BS $75.00

primulinum alba ---> very nice large plants of this consecutive blooming species BS $45.00
spicerianum we bloomed one from this cross it was so good we added it to our list BS $45.00
superbeins New sib cross from Taiwan flowering with large well shaped and colored on beauiful light mottled foliage a collectors must. BS $45.00

tigrinum finally back once more. NEW Sib cross. Healthy seedlings in 2" rose pots $85.00
<--- tonsum we love this beautiful mottled leaf species you will too! BS $35.00

translienianum ---> NEW cute small growing species we are delighted to have them. BS $75.00
<--- venustum alba beautiful mottled foliage of this good species NBS/BS $35.00

vietnamenses ---> beautiful sib cross legal seedlings, pictured one was the first to bloom    BS $75.00
violescense NEW rarely offered another great species very limited. NBS/BS $75.00

volontianum NEW another rare species very limited. NBS/BS $85.00
wenshanense ---> NEW name for conco-bellatulum nice sib cross seedlings  $45.00
wenshanense semi alba first to bloom was soft creamy white with no spots. BS $45.00
PAPHIOPEDILUM PARVI'S SPECIES & HYBRIDS
armeniacum Golden Emperor AM/ Big Pouch NEW finally have nice plants. BS $50.00
Akegoromo (micranthun x wenshanense) wow a new parvi hybrid beautiful seedlings BS $40.00
armeniacum x Hsinying Concon 'Ching Hua' new hybrid from Taiwan, small compact growers yellow with slight spots see pix of the first to bloom, big flower small plant. BS $50.00

Armeni-White ---> (armeniacum x delenatii) new remake from Taiwan BS $40.00
Camcloud (bellatulum x emersonii) awesome huge cream with fine spots BS $50.00

<--- delenatii sib cross using two select clones from the recently discovered plants deep rose pouches large flowers and most are poly floral. These have been super!! BS $45.00

delenatii var dunkle ---> very dark pouched delenatii foliage has near black edges very dramatic rarely offered. BS $85.00
Dollgoldi (roth x armeniacum) A REMAKE FROM TAIWAN large deep yellow flowers nice markings on compact plants. BS $125.00
Dollgoldi (roth x armeniacum) NEW Another remake with good parents. NBS $75.00
emersonii x micranthum huge soft pink NBS $65.00                                                        
Fanaticum (malipoense x micranthum) beautiful mid way between both parents. BS $45.00
Gloria Naugle (roth 'mi 71' x micranthum 'ro-14) One of the best parvi hybrids to date huge pink pouch, striped petals. Beautiful compact foliage too! The first to bloom had  very good color and shape. BS $125.00
Harold Koopowitz (roth x malipoense) see FEB ORCHIDS 1999 for a picture.  BS $125.00

Ho Chi Minh x delenatii ---> these should be great made with good clones, longer lasting large vietnamense flowers. NBS $55.00  
Jade Dragon (fairieanum x malipoense) remake from Taiwan should be awesome the first are spiking now. 11/08 BS $45.00
Kevin Porter (micranthum x bellatulum) The first time we have offered this cross, deep red flower, a good one can not be beat.  VERY LIMITED  BS $85.00
Magic Lantern (micranthum x delenatii) We are pleased to offer this remake of what we think is one of the best Parvi hybrids. Nice seedlings from Europe. Full pink flowers. BS $45.00

<--- malipoense x vietnamense NEW The first just bloomed see pix. BS $50.00
Mem. Larry Heuer (malipoense x emersonii) New remake from Taiwan.  NBS $65.00

Misty Dell ---> (Magic Lantern x delenatii) These are blooming out awesome, better than both parents we already got an AM on one. BS $45.00
Norito Hasegawa (malipoense x armeniacum) nice plants BS $50.00

<--- Wossner Kolarmi (armeniacum x kolokopingii) Awesome hybrid the flowers are dark yellow stripped, multi growth plants compact with mottled foliage Kept two love it. BS $85.00
Wossner Bellarmi (bellatulum x armeniacum) BS $45.00
Wossner Vietnam Bell (conco bellatulum x vietnamenses) beautiful pink with spots BS $40.00
Yakushiji malapoense x wenshanense similar to Ma Bell maybe better BS $50.00
NOVELTY PAPHS
Luna Moth x henryanum these will be very nice as the henryanum parent was huge. BS $40.00
Doll's Kobold (charleswothii x henryanum) a nice mini Paph with our favorite henryanum as a parent. These are beautiful multi growth plants. BS $60.00

henryanum x Winston Churchill 'Indomitable' FCC/AOS --->we have seen many henryanum hybrids and loved them all and think these are blooming GREAT. NBS $55.00
WHITE BREEDING
Due to hurricane IRENE damage we are out for the moment of nice whites. We are looking for some nice plants so check back often.

In Charm White 'In Charm' x niveum 'Nae Shan' BS ---> seedlings $45.00
STRAP LEAFED MULTI-FLORALS PAPHS

Formosa Lady (sanderianum x Susan Booth) x Moustache (philippinense x Saint Swithin). Another exquisite long petaled hybrid, our firsty offering of BS plants. BS $85.00
Lady Isabel x adductum v. anitum ---> When the first one bloomed we bought every plant that was left. I feel this is one of the most beautiful multifloral hybrids. BS $100.00

<--- Michael Koopowitz x adductum v. anitum awesome hybrids good as it gets. BS $100.00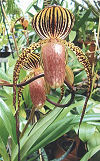 Michael Koopowitz x (adductum v. anitum x Shin-Yi Edward)
---> We have become addicted to anitum hybrids these should be beautiful with Michael Koopowitz. BS $85.00
Monsoon Temptation (Booth Sand Lady Hsinying x adductum '#8') Another new adductum hybrid, we feel this will be awesome. BS $85.00
philippinense x Prince Edward Of York These should be awesome both parents are exceptional. BS $85.00
Prince Edward Of York (rothschildianum x sanderianum 'Jacobs Ladder'). First made in late 1800's not seen again until now. AWESOME! 14 plus inches $95.00
Prince Edward Of York x Hsinying Franz Another new addition We saw one in bloom and added these immediately, blooming dark and long petaled BS $85.00
Prince Edward Of York x anitum we expect these to be awesome and really do not care if we do not sell any limited. NBS $95.00
Robinianum lowii x parishii NEW great primary easy 6-8 flowers on spike lasts for months in spike 3/1 2013 large multi-growth plants BS $85.00
Shin Ye Williams NEW (William Ambler x rothschildianum) Large flowered colorful Multifloral nice plants to spike shortly. THE FIRST TO BLOOM HAVE BEEN GREAT BS $95.00
Spiderman x Shin-Yi Edward Another new addition Awesome long petals. BS $85.00

St Swithen ---> (roth x philippinense) a new remake with superior clones. BS $85.00

<--- Transvaal (rothschildianum 'Boreno' x moquettianum) Wonderful remake using good dark parents the first to bloom have had deep rich colors. NICE Multi-growth plants. BS $75.00


MODERN COMPLEX HYBRIDS
We are really like the new COMPLEX hybrids. We have a fun selection in stock at this time so budded plants are almost always available from excellent breeders. BS $50.00
PAPHIOPEDILUM MAUDIAE TYPE
Wood Wonder (Zellwood Station x Hsinying Maru) If you like SPOTS and we love them this is for you. One of the most exciting new mottled leaf Paphs breed to date, wide spotted petals. Selected plants for lots of spots. NBS $65.00
Maudiae VINI hybrids new breeding from Taiwan NICE plants all have dark leaf base. BS $35.00

Maudiae green ---> new selection some have bloomed before but nice flowers. BS $35.00


<--- Macabre line breed seedlings of our all time favorite Paph. We bought a flask and will be releasing only a few as these should be absolutely awesome. $35.00
COMPLEX WHITE DIVISIONS
Finally able to offer divisions of our collection of antique white Paphs. Call for pricing. (Not subject to discounts).


<--- John Hanes 'Cor Jo' Nice multifloral creamy white.



Freckles ---> Cream flowers with nice random fine spotting. Slight green cast to end of petals
Freckles 'Chappy' Super freckles clone, large flower sometimes multi floral
---
A star (*) after the species means they are not subject to discount.
---
---
Return to top