| | |
| --- | --- |
| MOUNT PROSPECT ORCHIDS | |
---
---
PAPHIOPEDILUM SPECIES SEEDLINGS:

Adductum* --->'Alpha' x 'Super' Rare species beautiful plants photo first to bloom BS $300.00
bellatulum ONE my all time favorite species love the spots sib cross New sib cross BS $45.00
boxallii Awesome dark heavily spotted dorsals carmel/orange petals and pouch  NBS/BS $70.00

concolor --->Sib cross from Tiawan nice BS plants BS $45.00
dayanum Rare sib cross the only Paph that grows near rothschildianum  NBS $55.00

dianthum --->Wonderful rarely offered multifloral species  multi growth large plants BS $125.00
esquirolei alba Nice plants of this hard to find species  NBS $85.00
fairieanum alba Sib cross back for the first time in many years we have nice plants   BS $45.00
fowlii alba Tiny 2 inch plants all already bloomed once of this rare species BS $65.00
gardinerii We are excited to have this once more nice plants from Europe. BS $65.00
glaucophyllum Easy blooms consecutively and can stay in bloom for many months   BS $45.00

<--- haynaldianum alba Nice bright apple green and white flowers BS $85.00
helenae NEW Sib cross of this adorable small growing species BS $65.00

henryanum ---> Probably my favorite species, love the spotted dorsal sib cross BS $45.00
hookerae NEW Sib cross a fantastic species carmel pouch and rosy petals BS $65.00
jackii NEW Like malipoense but are pointed and paler in coloring limited BS $85.00

<--- liemianum Two very dark select clones of this great species  BS $55.00
mastersianum NEW sib cross An awesome species finally have nice plants to offer  BS $85.00
moquettianum Best breeding we plan on keeping some of these don't miss out. NBS/BS $50.00

niveum ---> small but mighty white flower sib cross from Taiwan breeding  BS $35.00
praestans NEW Been growing these for a while now about blooming size NBS/BS $75.00

primulinum alba ---> very nice large plants of this consecutive blooming species BS $45.00
spicerianum The best sib cross to date these have been fantastic!  BS $45.00
superbeins Flowering with large well shaped and colored beauiful light mottled foliage BS $45.00

tigrinum NEW Sib cross. Nice size very healthy seedlings  NBS $95.00
<--- tonsum we love this beautiful mottled leaf species you will too!  BS $55.00

translienianum ---> NEW cute small growing species we are delighted to have them. BS $75.00
<---venustum alba beautiful mottled foliage of this good species NBS/BS $45.00
venustum colored form beautiful plants of a new sib cross BS $45.00
vietnamenses beautiful sib cross legal seedlings, pictured one was the first to bloom  BS $75.00
violescense NEW rarely offered another great species very limited NBS/BS $75.00

volontianum NEW another rare species very limited NBS/BS $85.00
wenshanense ---> NEW name for conco-bellatulum nice sib cross seedlings.   NBS/BS $45.00
wenshanense semi alba first to bloom was soft creamy white with no spots BS $45.00
PAPHIOPEDILUM PARVI'S SPECIES & HYBRIDS
Akegoromo (micranthun x wenshanense) WOW! New parvi hybrid beautiful seedlings BS $40.00
Alois Handlbauer (Faniticum x hangianum) We have had hangianum hybrids in the past. Most are really awesome.  Limited NBS $75.00

Armeni-White ---> (armeniacum x delenatii) New remake from Taiwan  BS $40.00
armeniacum Golden Emperor AM x Big Pouch NEW  Finally have nice plants.  BS $50.00
armeniacum x emersonii beautiful full shaped flowers medium yellow on compact plants BS $75.00
armeniacum x Hsinying Concon 'Ching Hua' New hybrid from Taiwan, small compact growers yellow with slight spots see pix of the first to bloom, big flower small plant. BS $50.00
Black Diamond (delenatii  x fairrieanum) New remake with awesome parents these have been fantastic having 2-3 long lasting flowers. BS $45.00
Camcloud (bellatulum x emersonii) awesome huge cream with fine spots BS $50.00

<--- delenatii sib cross using two select clones from the recently discovered plants deep rose pouches large flowers and most are poly floral. These have been super!! BS $45.00

delenatii var dunkle ---> very dark pouched delenatii foliage has near black edges very dramatic rarely offered. BS $85.00
Delrosi (rothschildianum x delenatii var dunkle) The first to bloom was very dark           BS $85.00
Dick Wagner (fanaticum x bellatulum) Rich green with loads of spots  BS $45.00
Dollgoldi (roth x armeniacum) A REMAKE FROM TAIWAN large deep yellow flowers nice markings on compact plants. BS $125.00
Dollgoldi (roth x armeniacum) NEW Another remake with good parents. NBS $75.00
emersonii x micranthum huge soft pink NBS $65.00
Fanaticum (malipoense x micranthum) beautiful mid way between both parents >BS $45.00
Gloria Naugle (rothschildianum 'mi 71' x micranthum 'ro-14) One of the best parvi hybrids to date huge pink pouch,striped petals. Beautiful compact foliage too!. The first to bloom had very good color and shape. BS $125.00
Harold Koopowitz (roth x malipoense) see FEB ORCHIDS 1999 for a picture. BS $125.00

Ho Chi Minh x delenatii ---> these should be great made with a good clones, longer lasting large vietnamense flowers. NBS $55.00
Jade Dragon (faieieanum x malipoense) remake from Taiwan should be awesome the first are spiking now, 11/08  BS $45.00
Kevin Porter (micranthum x bellatulum) The first time we have offered this cross deep red flower, a good one. VERY LIMITED BS $85.00
Shen-Liu Golden Wunder (Lipperwunder x armeniacum)  large chrome yellow nice BS $85.00
Ma Bell new remake using great parents compact plants great for windows BS $45.00
Magic Lantern (micranthum x delenatii) We are pleased to offer this remake of what we think is one of the best Parvi hybrids. Full pink flowers  BS $45.00


<--- malipoense x vietnamense NEW The first just bloomed see pix. BS $50.00
Mem. Larry Heuer (malipoense x emersonii)New remake from Taiwan.NBS $65.00
Norito Hasegawa (malipoense x armeniacum) nice plants  BS $50.00

<--- Wossner Kolarmi (armeniacum x kolokopingii) Awesome hybrid the flowers are dark yellow stripped, multi growth plants compact with mottled foliage Kept two love it. BS $85.00
Wossner Bellarmi (bellatulum x armeniacum) BS $45.00
Wossner Vietnam Bell (conco-bellatulum x vietnamenses) beautiful pink with spots BS $40.00
Yakushiji (malapoense x wenshanense) similar to Ma Bell maybe better BS $50.00
NOVELTY PAPHS
Charlesworthii x Jenna Marie looking for dark large flat dorsals BS $40.00
Fairieanum alba x Via Muchos Ninos fairieanum make great hybrids with complex NBS $55.00
Hung Shen Provocation x henryanum we expect loads of spots and pink pouches NBS $55.00
Iona (fairrieanum x bellatulum) Remake fantastic parents the first to bloom super BS $45.00

Luna Moth x henryanum ---> these will be very nice as the henryanum parent was huge BS $40.00
Doll's Kobold (charleswothii x henryanum) a nice mini Paph with our favorite henruanum a parent. These are beautiful multi growth plants. BS $60.00
Rolfei (rothschildianum x bellatulum) This cross once hard to bloom but with the new roths and bellatuluum line breeding are easy with dramatic flowers. BS $85.00
WHITE BREEDING

We are looking for some nice plants so check back often.
In Charm White 'In Charm' x niveum 'Nae Shan'---> BS seedlings $45.00
STRAP LEAFED MULTI-FLORALS PAPHS
I have become addicted to anitum hybrids and have added many they should all be awesome.
Hsinying Franz x anitum Expecting awesome multiflorals with dark dorsals NBS $85.00
Hung Sheng Eagle x rothschildianum Another awesome rothschildianum hybrid        BS $85.00
Hung Sheng General (St Swithen x anitum) NBS $85.00
Johanna Burkhardt x Hsinying Franz The dorsal could be almost all black  NBS $95.00
Johanna Burkhardt x rothschildianum  Near black dorsals on large flowers  BS $100.00
Kemp Tower x Johanna Burkhardt Yet another great possibility for black dorsal NBS $85.00
Kolosand x Johanna Burkhardt Expecting multiflorals with dark near black dorsals   NBS $95.00
Lady Rothschild x anitum NBS $95.00

<--- Michael Koopowitz x adductum v. anitum awesome hybridas good as it gets BS $100.00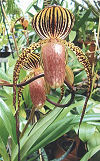 Michael Koopowitz x (adductum v. anitum x Shin-Yi Edward)--> We have become addicted to anitum hybrids these should be beautiful with Michael Koopowitz.     BS $85.00
Orchid Joe Curly Q (Spiderman philippense) Got best Paph hybrid and best Paph in show with one of these last spring. BS $85.00

<--- Paul Parks x gardinerii Great new mini strap leaf hybrid, the plants form multi growth clumps fast and bloom on 6 inch across plants great windowsill plant for those with not to much space but wanting a multifloral. Multi growth BS $55.00
philippinense x Prince Edward Of York These should be awesome both parents are exceptional. BS $85.00
Prince Edward Of York* (rothschildianum x sanderianum 'Jacobs Ladder'). First made in late 1800's not seen again until now. AWESOME! 14 plus inches NBS $95.00
Prince Edward Of York x Hsinying Franz Another new addition. We saw one in bloom and added these immediately, blooming dark and long petaled BS $85.00
Prince Edward Of York x anitum we expect these to be awesome and really do not care if we do not sell any limited. NBS $95.00
Robinianum (lowii x parishii) NEW great primary easy 6-8 flowers on spike lasts for months in spike 3/1 2013  large multi-growth plants BS $85.00

<--- Shin Yi Williams (William Ambler x rothschildianum) NEW Large flowered colorful Multifloral nice plants to spike shortly.  THE FIRST TO BLOOM HAVE BEEN GREAT    BS $95.00
Spiderman x Shin-Yi Edward  Another new addition Awesome long petals BS $85.00

St Swithen ---> (roth x philippinense) a new remake with superior clones BS $85.00
Toni Simple (lowii x haynaldianum) Looking like a species nice shaped flowers on tall spikes. In spike Jan 2015 BS $75.00
<--- Transvaal(rothschildianum 'Boreno' x moquettianum) Wonderful remake using good dark parents the first to bloom have had deep rich colors. NICE Multi-growth plants  BS $75.00

William Ambler ---> (rothschildianum x wilhelminiae) Super new roth hybrid, 4-5 flowers held high on tall spike. BS $75.00
Wossner Black Wings (rothschildianum x anitum), can't get much better than this      NBS $85.00
MODERN COMPLEX HYBRIDS
We really like the new COMPLEX hybrids and have a GREAT selection in stock all the time so budded plants are often available from different excellent breeders. BS $50.00
PAPHIOPEDILUM MAUDIAE TYPE
Wood Wonder x Macabre Zellwood Station x Hsinying Maru x Macabre Like SPOTS this is for you. One of the most exciting mottled leaf Paphs breed to date wide spotted petals NBS $75.00
Maudiae VINI hybrids new breeding from Taiwan NICE plants all have dark leaf base BS $45.00

Maudiae green ---> new selection some have bloomed before but nice flowers BS $35.00

<--- Macabre line breed seedlings of our all time favorite Paph. We bought a flask and will be releasing only a few as these should be absolutely awesome. NBS $65.00
COMPLEX WHITE DIVISIONS
Finally able to offer divisions of our collection of antique white Paphs. Call for pricing. (Not subject to discounts).


<--- John Hanes 'Cor Jo' Nice multifloral creamy white.



Freckles ---> Cream flowers with nice random fine spotting. Slight green cast to end of petals
Freckles 'Chappy' Super freckles clone, large flower sometimes multi floral
---
A star (*) after the species means they are not subject to discount.
---
---
Return to top